"The whole object of travel is not to set foot on foreign land. It is, at last, to set foot on one's own country as a foreign land."
G.K. Cheston, A writer, philosopher, and an art critic.
I started Jaipurthrumylens as a blog on Jaipur in 2015 with an intent to share my explorations in and around Jaipur. The idea was to document and present hidden gems and unexplored places of Jaipur. During this short period, Jaipurthrumylens made a place for itself among the readers.
A reader based in the UK suffering from a life crippling disease requested me to write more about Jaipur and not merely offbeat explorations. She mentioned that she will probably never visit Jaipur because of her health condition and this blog allowed her to travel to "exotic" places and experience it "virtually". Many other readers requested me to write about must visit places & experiences in Jaipur because they wanted my perspective on the same. The blog took a new course.
Jaipurthrumylens has been recommended as the best blog on Jaipur by the readers also, Feedspot.com has rated Jaipurthrumylens as No. 1 blog on Jaipur!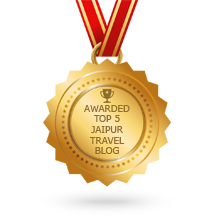 Hi! I'm Arv!, I'm a blogger based in Jaipur with an itch to explore.
I would love to say that I'm a travel blogger but I can't – work keeps me engaged. Instead, I become a traveler every weekend exploring my city – the Pink City!
The journey of blogging has led to many turning points and includes providing content to the world's No. 1 media company – TIMES, leading a group of architecture students on a heritage tour, collaborating with brands to name a few.
Like this blog? leave a comment with your views, suggestions, and feedbacks.
You can follow me on Facebook, Twitter, Instagram, Pinterest, Flipboard, Linkedin, and Mix.